Psykhe Block of the Month Program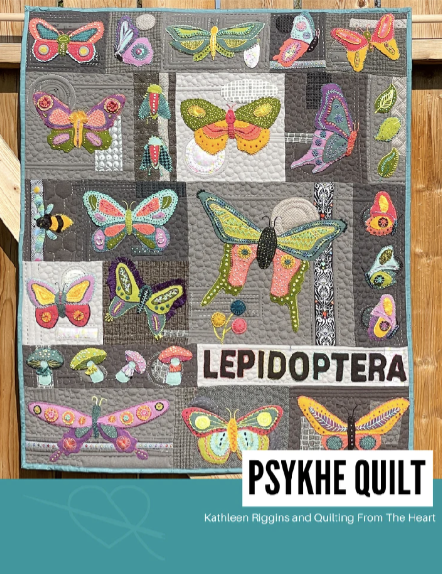 Psyke "Butterfly" Quilt

2023 Block of the Month Program

Block 1 – March 1, 2023
$68.00/Month – Includes All Embellishing Threads & Shipping
$72.00/Month – Includes All Embellishing, Wool Threads & Shipping
This block of the month program will run for 10 months and features Psykhe Quilt by Kathleen Riggins. The kit will include the book (unless you already own it*) wool and cotton fabric, trims, embellishing threads and some specialty threads to make the quilt top. You will also have the option to upgrade your subscription to include all the wool applique threads – I highly recommend!! Backing and binding is not included with this program. (*Participants who already own the book will get a credit in month 1.)
Although this program is not a "Stitch-along" format, we will have a Facebook group. You will receive 2 blocks each month for the first 9 months & 3 blocks in month 10. We will be following the color scheme for this BOM from the photos in the book. We will also be using a combination of our hand dyed wool and Sue Spargo wool. There will be design alternatives for the block that says "Lepidoptera" for those who wish to change things up a bit.
We reserve the right to make minor changes or substitutions from the original plan due to product availability.
Benefits of joining this Block of the Month
All the fabrics are chosen for you. As a participant, you have the option to add items from our website to your monthly shipment at no additional shipping charge. You will also receive 10% off any threads you wish to purchase even if it's for another project.
Social Media
A Facebook Group will be formed as a place to get help, share your progress and be social.
Registration
A $30 non-refundable registration fee guarantees you a spot and a book in this program. It is understood that by registering, you are enrolling in the entire 10-month program. A kit will be prepared for you with the understanding you will remain in the program for the duration. If something unforeseen happens, and you need to cancel, please contact us as soon as possible.
Monthly Fee
**There are two program tiers this year. Once you have chosen the tier you wish to register for, you cannot change.
At the beginning of the first month and 9 months thereafter (last month's billing will be December, 2023) you will be billed amount stated above. If for any reason we are not able to charge your credit card, we will send you an email and hold your kit until payment arrangements are made. California residents will be charged sales tax.
Registration will be available on the website. You will have the opportunity to set up autopay during month 1 through the Square payment processor. In March, 2023 you will receive an invoice, click the link and save your credit card details for subsequent months. By registering for Psykhe, you agree to the credit card autopay policy. Participants who do not save their credit card for autopay will have their membership in the program canceled. Participants who wish to pre-pay the entire program will have the opportunity to do so in month 1. We cannot accommodate PayPal payments. PLEASE DO NOT EMAIL YOUR CREDIT CARD INFORMATION – WE WILL NEVER ASK YOU TO DO SO.
Shipping
Shipping of your kit is included in the monthly fee. International customers will have additional shipping added. (Estimated $10-15/month additional – depending on the country)
Have questions before signing up? Send us an email at westcoastwool@gmail.com
Let the Stitching Fun Begin!